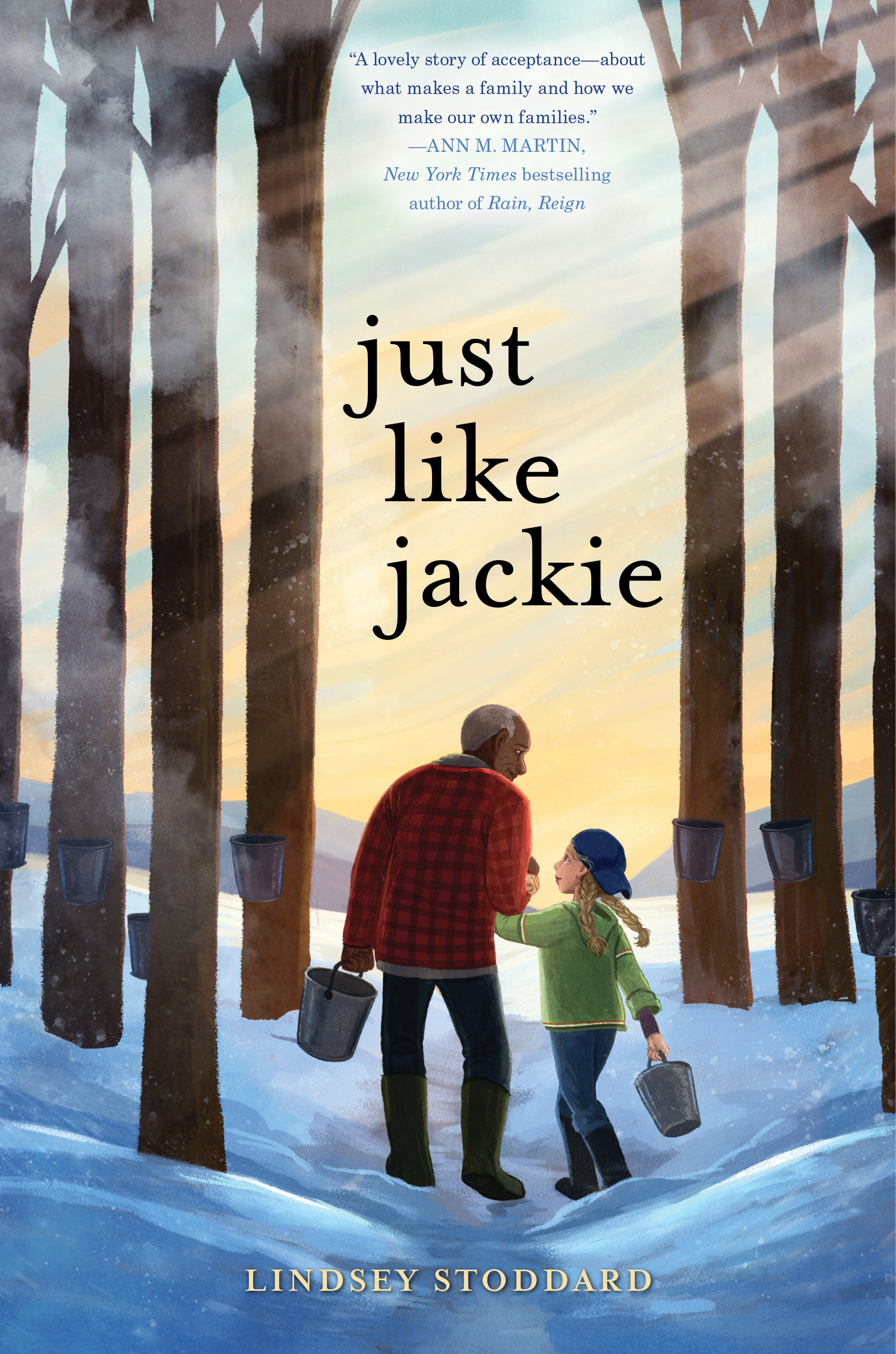 ABOUT JUST LIKE JACKIE:
Robinson has always been her grandpa's right hand. She helps him fix cars in his repair shop and collect sap from the maple trees in their backyard. Now she's his right hand more than ever, because Grandpa's memory's been getting tired lately, and he can forget the simplest things, like how to make their favorite dinners or where he put his jacket. Sometimes he even forgets Robbie's name.
Robbie's sure that if she can just stay out of trouble, Grandpa won't have to worry so much, and his memory can rest and get better. But when it comes to Alex Carter, the biggest bully in the fifth grade, who makes fun of her name and for not having a mom, Robbie just can't keep her fists to herself.
Now Robbie's stuck in group guidance at school, and it's all Alex's fault. But there's no way she's sharing anything with some therapy group, especially not about Grandpa. Because he's the only family Robbie has— and it's up to her to keep them together, no matter what.
PRAISE FOR JUST LIKE JACKIE:
"I was truly moved by this refreshing story about a scrappy young heroine and her struggle to protect her family."
—SARA PENNYPACKER, New York Times bestselling author of Pax
"Just Like Jackie is not the story I thought it was going to be. It's a story about scratching the surface (and welcoming what you find below). It's also a lovely story of acceptance—about what makes a family and how we make our own families, and about embracing our differences."
—ANN M. MARTIN, New York Times bestselling author of Rain Reign
"As close to perfect as a book for middle grade children can get! Readers will cheer for Robbie as she comes to terms with the family she has and finds the family she needs."
—CAMMIE MCGOVERN, author of Just My Luck
"A fresh coming-of-age novel as feisty, funny, and forthright as its protagonist. Robinson overcomes obstacles with wit, grit, and a growing compassion for others, showing us that families are what we make them and happiness is found in the simple gifts we take for granted. A rich, rewarding read all around."
—JOHN DAVID ANDERSON, author of Ms. Bixby's Last Day
"Validating, heart-rending, and a deft blend of suffering and inspiration."
Kirkus Review, Starred [click here for full review]
"This emotionally honest, sensitively written novel confronts a range of difficult topics and offers an inclusive view of what family can look like."
Publisher's Weekly, Starred [click here for full review]
INTERVIEWS & BLOG POSTS:
HarperStacks blog post on my inspiration for JUST LIKE JACKIE [read here]